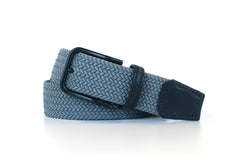 Brookes & Hyde
Grey Elastic Stretch Woven Belt
Grey Elastic Stretch Woven Belt
Leather Tabbed Ends.
The perfect casual belt with plenty of stretch for an easy night out or a day on the golf course. 

Handmade in the USA. 
Matte Black Buckle
35mm width = 1 3/8"
Sizing Recommendation of ordering 2" larger than your waist size. So if you are a 34" pant size, you would order a 36" belt.